Dazzle Every Day of the Week
Seven is a symbolic number. There are seven days of the week, seven continents, seven chakras, seven phases of the moon, seven colors in a rainbow and now there are seven NEW sparkly makeup shades of our Glitter Collection! Add dazzling dimension to your looks with wild and wonderful colors such as Spiced Pumpkin, Chameleon, Shamrock, Amethyst, Mermaid Mood, LIT and Black.
Whether you're looking for a subtle splash of sparkly makeup or a whole new world of glitz and glam, these shimmery shades let you unleash your inner glow queen and get glitzed! Our spectrum of new glitter shades will dare you to dazzle and inspire you to glisten like a goddess.
Keep Calm and Glitter On
The glitter possibilities are endless. Let your face be the most gorgeous canvas ever and enhance your sparkly makeup looks – whether you're in a Mermaid Mood, feeling LIT, or going for the Smokey Gold. Enhance your cheeks, lips, nails or even brows with show-stopping shimmers – creating a bedazzled display of beauty that lets you glow from within. Add a sparkly makeup twist to a classic by replacing traditional highlighter with some glitter to give your complexion added shine!
Glitter is a wonderful way to enhance and brighten up your existing looks. Whatever your fave or go-to makeup style, get your glimmer on with a little dusting of glitter love. Just a little bit can go a long way in converting your look from bland to grand! Be bold and allow the goddess inside of you to glisten and shine with this unapologetic and vibrant spectrum of shades.
Sparkly Makeup for All Occasions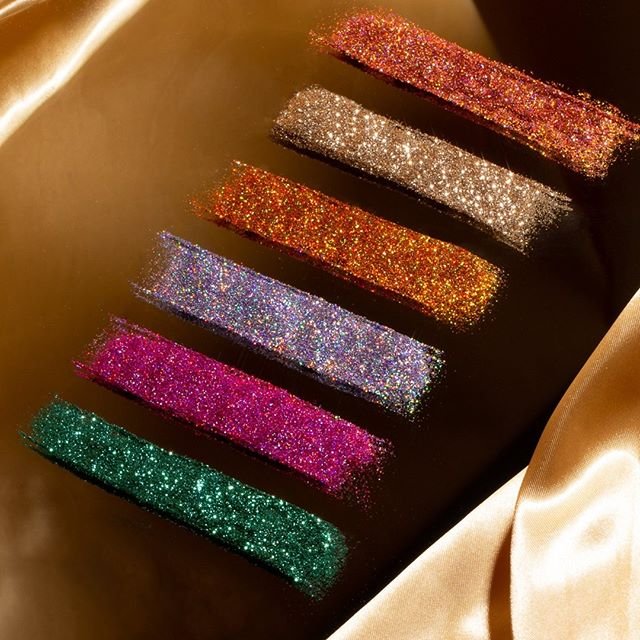 Planning to party? The weekends will be LIT with our new sparkly makeup shades. If you're hitting the dance floor anytime soon, be sure to stand out in the dimmed lighting of the nightlife. While everyone else fades into the crowd, you'll sparkle like a starlet.

But don't just wait for Friday or Saturday nights to glitter up, there are so many occasions to showcase your new sparkly makeup looks. Glitter is ideal for a myriad of occasions from festivals, to concerts, birthdays, dress up parties and formal events. Don't forget Halloween is just around the corner and a bit of glitter is an easy and quick way to spruce up your costume or character.

You're NEVER too old for glitter, and playing around with these shimmery shades lets you take on a multitude of personas – from a pretty princess to glam rockstar to the most beautiful character ever – YOU! Don't forget to lock in your glitter looks with our Studio Pro Silicone – Paddle Applicators and Base Booster – Glitter and Shadow Glue for endless dazzle!

Go Glam with Glitter
Let loose and let your imagination run wild with 7 NEW SHADES from our wildly popular Glitter Collection! The ultimate luminosity is yours for the taking – and we're super excited to see what styles and glitter designs you'll create! Connect with us on Facebook, Instagram, and Twitter to show off your style! Don't forget to tag us @bhcosmetics!
The post Unleash A Spectrum of Sparkly Makeup With Our Glitter Collection appeared first on BH Cosmetics Blog.